The Story of the Van Horn Family & Mansion
---
The Founders
The history of the Van Horn Family is both a fascinating and classic American story: A pioneer family who earned riches from dreams and hard work, yet lived through plenty of hardships and heartaches. This can also describe their homestead, which was built by the first Van Horn to settle in Niagara County.
James Augustus Van Horn was born in New Jersey in 1770. He became a blacksmith and settled with his wife, Elizabeth Hall, and their three surviving children: Daniel, Cornelius and Sallie. They moved to Seneca County, NY around the turn of the century. At age 31, James purchased 637 acres south of Lake Ontario from the Holland Land Company (1801). As a rule you could not take possession of your property until it was paid in full and so James, like most new land owners of the day, would take many years to pay it off and move.
Sadly, in 1807, Elizabeth passed away. Almost immediately James married his second wife, Abigail Carpenter. Together they would have six surviving children: James Jr., Launey, John, Caroline, Elizabeth and Burt (they lost two other children in infancy). Their first decade of marriage was very remarkable. In 1808, James and Abigail had their first child, James Van Horn Jr. James visited his new property in Niagara County for the first time in 1809, alongside business partner Levi Ellis. Both arrived from Seneca County with plans to build a new water-powered grist mill along Eighteen Mile Creek (to sell flour).
Construction began in 1810, around the same time James' son Launey was born. Unfortunately all the workers would become very ill with swamp fever. The project was abandoned before winter, leaving the men to return to their lives in Seneca County. James would not give up however, returning alone the next year to complete construction and put it into operation. Around this same time he also built a small log cabin home nearby, and a second business: a sawmill.
James decided that until the businesses were strong, his family would remain in Seneca County. One major reason may have been the continuing wide-spread illnesses in Niagara County, due to the large amount of swamp-land at the time (the land was drained properly in 1823 by the state, eradicating the health problems). And so his wife and children occasionally visited their Newfane estate, but on record and for daily life remained in Seneca County.
When the War of 1812 erupted, many settlers left the area but James Van Horn remained. James began sending flour from his mill to support the American garrison at Fort Niagara. March of 1813 would see the arrival of Abagail's third and James' sixth child, John Van Horn. December of that same year, at the height of the war, the British, with indigenous allies and Tories (sympathizers of the British party) headed to Eighteen Mile Creek. They had orders to destroy all before them west of the creek. They burned homes, mills and factories, leaving the settlers to the mercy of the woods and harsh temperatures.
The British attacks spared most families and property east of the creek, but had orders to burn the Van Horn's mills, which were considered "military targets" since they were supplying Fort Niagara with flour. All of their supplies were confiscated except for a tiny portion of flour. The mill and everything remaining inside was burned to the ground. Yet the British spared James' home; some believe this was because he was very diplomatic towards the invaders and entertained them with food and brandy. Regardless of what happened, with the businesses now gone James chose to return to his family and the safety of Seneca County.
In 1817 with the war behind them, James started over with Ira Tompkins, a new partner and millwright. They rebuilt the grist mill and over the next decade added a brickyard, small general store and sawmill (he would rebuild the grist mill again, after a fire in the 1830s). James also began preparations to build a large home for his family, which was staying more frequently in town. By 1819 the entire family officially settled at their log cabin home in Newfane. That same year he began construction on what would become the first brick building in the area, known today as the Van Horn Mansion. The new home was south of the family home, made using bricks from his own brickyard, and it took four years to complete. 1823 would also see the birth of James' youngest child, Burt.
Their new brick home was an immense structure, fitting for their affluent family. The style was Federal/ Greek, and the original structure was a two story dwelling plus basement, with four rooms on each floor, a pitched roof, and a stairway to the second floor in the hallway located in the center of the home. There were four fireplaces on each floor, a basement kitchen and an outdoor summer kitchen.
James, now in his fifties, held ownership of 673 acres of property (460 east of the creek, 213 on the west side). He entrusted much of the family business and property to his sons, better known by the business name Van Horn and Company. With their help, the family farm and businesses also grew with the addition of a small wheat farm, distillery, woolen mill with a clothing shop and a few other mills. Because of the many mills, locals started calling the region south of Kempville both Van Horn Mills, and Millville.
James began to spend more time in local politics and the growth of their community. His estate would host the first town meeting on April 6, 1824. They named their new official township New Fane, chosen by Abagail Van Horn. The name was inspired by the town of Newfane, Vermont (named for Earl John Fane), possibly because she traveled through there in her life and the geography of both locations were remarkably similar. James would eventually become the third Town Supervisor (1832). Their mansion also housed the town of Newfane offices in its earliest days, until the town grew much larger and they were moved to Main Street.
He was an active leader at the local Baptist church, and their meetings were also held at his home before the church was built. During this time the church held baptisms across the road from the home, along the banks of Eighteen Mile Creek. James Van Horn would also serve as a member of the New York State Assembly and a Niagara County judge. In his remaining years, James sold the family home to son Burt, and then he and Abagail returned to Seneca County, both passing away in 1856.
The Next Generation
Many of James and Abagail's nine children would remain in the area, growing the family businesses while serving positions in local and state government. To see various facts about them, along with other family members, click here.
For now we will look at two of the most well-known Van Horn children: James Jr. and Burt.
---
James Van Horn Jr.
James was born in 1808, the first son of James Van Horn Sr.'s second wife Abagail. He was barely five years old when the War of 1812 broke out, as young as his own father was during the Revolutionary War. James Jr. would be raised as a farmer and trained in the family mills. His earliest business was a distillery in 1825, when he was just 17 years old. When his father retired in the 1840s, James took over the family's mill businesses.
In 1836 James married the young and beautiful Malinda Niles. In less than a year she would die after falling ill during childbirth, a son called James C. Van Horn. The family buried Malinda in their estate graveyard on January 13, 1837, only ten days after her 21st birthday. Malinda has become a legendary figure within the mansion walls, and remains arguably one of the most well-known of the Van Horns (See 'Ghost Tales' to learn more).
Later in 1837, the mansion was burned in a fire, and the family had it rebuilt. James Jr. also had to deal with the loss of the mills in a great fire, but he wasted no time to rebuild and continue the businesses. He also grew his business dealings, opening a Woolen factory in 1842. In 1852, James built his own home on the family estate, just west of his parent's home. He married again in 1861 to Cecilia Davis and they had two children. In their lifetimes, James Jr. and wife Cecilia were considered beloved Christians and great leaders in the community.
James Jr. represented his district in the State Assembly and would serve four terms as Town Supervisor. He was also involved in the many family businesses, although to what extent is unknown. By 1782 he decided to sell the family grist mill to a Mr. Arrowsmith (who changed the building's name to "Lake Shore Mills"). After Cecilia's death, James Jr. moved in with son James C. on Ridge Road in Newfane, and he passed away on March 11, 1873.
Burt Van Horn
In terms of American history, the most famous of the Van Horn family is Burt. Born on Oct. 28, 1823, the same year the family's mansion construction completed, Burt proved early on to possess his father's keen business skills and sense of government responsibility.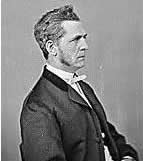 In 1852, he took over his family's wheat farm and surrounding land (400 acres total) when his elder father, James Sr., moved back to Seneca County. His father stopped maintaining the farm in 1850. Burt decided to invest in fruit trees, and by 1875 his orchards boasted over 1,000 apple trees.
He also purchased his family home, becoming the second owner of the mansion. He and his first wife, Charlotte Goodell married in 1851, and had two sons, Burt II and Willis. Charlotte died in 1869, and Burt remarried in 1870 to Alecine Schuyler. They had two daughters, Mary (who died in infancy) and Grace.
Burt Van Horn served 3 terms as both Member of Congress from his Congressional district, and as a Member of the State Assembly. His political career spanned the dark, eventful Civil War years. He was elected to the 37th Congress in 1860 and supported the policies of President Lincoln. Burt liked to brag that he was elected on the same day Abraham Lincoln was elected president. He served terms in 1860-1863 and 1865-1869 (he sat out one term while the districts were rezoned).
While earnestly supporting the Republican Party on its national policies and issues, he exercised his influence at home by helping to secure funds for the harbor at Olcott, adding 2 800 foot piers which added to prestige and boosted tourism. He also served for many years as a moderator of the Niagara Baptist Association.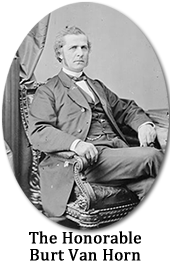 After retiring from Congress, Burt spent time working the family farm while also dealing extensively in real estate. He sold the family residence in Newfane to his son, Burt II, and bought a home 267 Genesee St. in Lockport in 1865. In 1877 he was appointed U.S. Internal Revenue Collector for the 28th Collection District of New York, comprised of eleven counties (offices were in Rochester, NY). Burt returned to Lockport in 1881, and split the family business in thirds, giving one piece each to his children. Burt remained in the area until his death in 1896.
In 1901, the township of Newfane shifted south, renaming the area that had been called Charlotteville. The northern-most acreage of the Van Horn property, including where the mansion stands, would be renamed as the hamlet of Burt, after the Honorable Burt Van Horn. The hamlet of Burt stretches between Newfane and Olcott.
The Great Expansion
At the start of the 20th century, the family mansion was under the care of Burt Van Horn's son, Burt, known by many as Burt the Younger. Born in 1852, he was a graduate of Yale and studied law at Columbia University. He began to practice law in New York City, before returning home to Newfane due to his health (undisclosed, possibly anxiety). He and his brother Willis inherited their father's fruit farm when Burt II was only 26. Having worked in the farm since he was a young boy, he took his experience and worked hard to grow the farm, which saw great success. His orchards were among the leading models for modern and successful farms. It was 375 acres of 'the highest and most scientific cultivation', producing A1 quality apples, pears and peaches sold all over the world.
Every bit a multitasker as his father, uncles and grandfather, Young Burt also invested in other businesses, the most profitable being a cold storage plant in Niagara Falls with ice and distilled water.
In his thirties, Burt became fascinated by the electric-railway business, well aware a local railway could increase farm profits. By 1895 he met W. Caryl Ely who was in the industry, and he reconnected with longtime friend and Yale alum Thomas DeWitt Cuyler. He used his own wealth and influence to help secure funding and building approvals for many of the local trolley lines that were built all over WNY. In 1895 when all the railways were consolidated into one business, the International Traction Company, Burt was hired as their general manager. The office was located in Buffalo, where he moved his family, and during his time in office he finally saw his dream constructed: a trolley system that ran from Lockport to Olcott (1900-1938), helping to boost local tourism. Young Burt was also now one of WNY's most prominent millionaires.
As general manager, his biggest challenge came in 1901, during Buffalo's Pan-American Exposition, a type of World's Fair. He handled the immense traffic on all the trolley lines, which had a few unfortunate casualties amidst the largely smooth daily runs- which in those days was considered very successful. Still, the massive job and intense pressure took a toll on Burt. He resigned in late 1901, happily stating "back to the farm for me".
Now settled in Buffalo, he decided to use his grandfather's home as a summer residence and occasional visit to oversee the farm. To better fit his style and modern times, he began a large expansion to the house in the Mission/ Arts and Crafts style around 1898. A large addition on the back of the house removed the rear wall, making room for a dining room, new kitchen, and more bedrooms, bathrooms and closets. They built a third story and constructed two skylights within it, one over the other. The lower was imported from Paris, France, and remains a magnificent collection of stained glass panes surrounded by cast iron. The one above was a protective cover for the lower one. Thanks to the beautiful electric demo at the Pan-Am Expo, the home also became the first in the hamlet of Burt to have electricity, which Young Burt used to show off his Parisian glass. The staircase was also moved and made more ornate, to better accommodate the center of the newly modernized house, which could now truly be called a mansion.
By the end of the decade, Burt's family was preparing for a permanent move to Manhattan. In 1910 the mansion and farm was purchased by Henry Winter Davis, marking the end of the Van Horn family's time in the home they crafted and enjoyed for three generations.
New Century, New Owners
Beginning in 1910, the aging Van Horn house would be sold and resold by many families. Henry W. Davis passed away on Sept. 27, 1922, and the executors of his estate sold the mansion to Herbert Pease. Pease took out a $70,000 mortgage on the farm, which proved too much and by February 1929, the Lockport Exchange Bank foreclosed. The Cramer brothers, one living in Lockport and the other in New York City, immediately bid on the house property for $5,000 and won (the farm and surrounding acres were sold to other buyers). Their ownership was strictly for the purpose of flipping, and so the house was back on the market shortly after.
In November of 1929, Douglas R. and Florence Patterson moved their family to the mansion, now located on 14.79 acres. It included land south to the corner of Lockport-Olcott and Drake Settlement, and the land west of Lockport-Olcott to Eighteen Mile Creek. The Pattersons would prove to be as beloved community members as the Van Horn's had during their time in Newfane.
Douglas was born in Novia Scotia in 1888. He came to live in Niagara County in 1913, when he accepted a job from the Lockport YMCA as their director of physical education. He married Florence Ferree from Lockport in 1915, and the following year he quit his job and transferred to Florence's father Eugene's leather specialty firm. Douglas worked his way from salesman, to secretary, then vice president and finally president. Douglas and Florence had five children, so when it came time to purchase a house big enough for everyone, the large estate in Burt, NY was a perfect fit.
Family friends often visited for games, conversation and horseback riding. Many locals remember Florence's special apple bobbing game- she placed a coin in a slit on each apple, so if you caught an apple in the bucket you got to keep the money. Mr. Patterson also had a few horses for casual riding, and their fields were in the large acreage that extended towards Drake Settlement Road.
Raised on hockey, every winter Mr. Patterson constructed a hockey rink on their property along Eighteen Mile Creek, filling it with water from help by the local fire companies. He created the lines to show the playing area, furnished the goals and had flood lights installed so the rink could be used at night. Everyone in the community was invited to skate there, young and old alike. Mrs. Patterson offered her hot cocoa to the visitors, and allowed them to walk through the mansion with guard-covered skates on, not worried in the least about soiling the carpets. Many locals were thrilled; this was the first chance for many to get a glimpse inside the well-known brick home.
They often held social events at the home including teas and quilt displays by Florence, and Douglas' strawberry socials which benefited the local boy scout's summer camp. Mr. Patterson became involved with the Boy Scouts in 1917 and was an avid supporter and contributor for most of his life. Guests to their event often came from all over Niagara and Erie counties.
The Pattersons also hosted many parties, especially at Christmastime, filling the mansion with laughter and pleasant memories. Their Christmas trees stood 10-12 feet tall, alongside the stairs and below the stained glass window. Their daughter Marion held her wedding there in 1938, and threw her bouquet over the railing to a throng of single women waiting below. However, that same year Mrs. Patterson died, and sadness again fell over the mansion. In 1939, the structure suffered a fire. Following in the tradition of former owners, Douglas also did not wait long to remarry, and his second wife, Blanche Carnall Harman who was a widow herself with three children, lived in the mansion with the family until they moved to Lockport in 1949.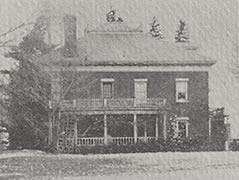 During the time the Pattersons lived in the home, a decision was made to remove the family cemetery from the property. This was a very common occurrence for towns as little graveyards all over impeded the growth of the region, and many also saw them as not healthy or safe places to raise families near. The family was removed and relaid to rest at the Glenwood Cemetery in Lockport. They remain there, in a row in one plot: James Sr. and Abigail, Burt Sr and both wives Charlotte and Alicine, and Burt & Alicine's children, Schuyler and Mary. Burt Jr. and wife Helen also are buried near them.
In 1949, the house was purchased by Mary Wagner of Lockport, who saw huge potential within the walls. She renovated and transformed the building into an upscale restaurant and hotel. Known as Green Acres, it was the first of its kind in the area, and also very unique and memorable. Howard Fitzgerald eventually took over in 1954 through app. 1963. The restaurant may have closed, but its time in the mansion left a permanent place in the community's hearts; it would for many decades following be called 'Green Acres,' with many speaking of the wonderful foods they were served.
In 1964, the building was converted into a boarding house by John Strickland, which lasted through 1967. He continued renting the house as a single dwelling on and off for a few more years before abandoning the building. Vandals would frequent the property, slowly destroying an already declining structure. Around this time, stories of hauntings grew rapidly. No longer was it a family home, instead it was known for being an abandoned building. The mysterious 1837 death of Malinda Van Horn had already created the legend of her ghost walking the property; now various other ghost sightings on the estate helped the supernaturel tales quickly became a part of the town's folklore.
Mr. and Mrs. Leslie Baker's family arrived the fall of 1971, attracted to the history's wonderful history and ignoring community member's concerns of ghosts. They quickly replaced all the broken windows, mowed the tall grass and trimmed the overgrown shrubs, allowing the house too seem warm on the outside for the first time in ages. The children, Dawn, Scott and Shawn loved exploring the amazing rooms and secret passageways. Some of the unusal architecture and unexplained hollow areas in the house led the Bakers, and many others since, to wonder if the house was used as part of the underground railroad. While this still cannot be confirmed, there is a large amount of evidence pointing towards it's use as a stop.
The Bakers moved on after a year, and the brick mansion was once again abandoned, being further destroyed by trespassers and vagrants. Noury Chemical Company acquired the structure in 1977 as part of a larger property sale to relocate their business. They considered turning the building into offices, however structural damage blended with hauntings kept them from moving forward with the plan. The empty structure would continue to decline, as fast as the haunted sightings and stories grew. By the 1980's, the mansion was known as a well-known haunted structure in Niagara County.
Rescuing a Home
The Van Horn Mansion was saved in 1985, when Noury Chemical Co. was bought out by another company which decided to donate the building and surrounding grounds to the Newfane Historical Society. This donation came with the condition that the mansion be used as a museum and never again be sold as a residence.
The society held a special tour early in its ownership, allowing members and some press to get a look at the building everyone had previously only known from the outside. Using blueprints and a large amount of research, a restoration project was undertaken to return the building to its original splendor. It would take many fundraisers, donations and lots of hard work by volunteers to restore every part of the building, which would see its official opening in the mid-1990s.
Now the Van Horn Mansion has been restored to its early splendor, playing host annually to weddings, private parties, fundraisers, teas and haunted tours. It is one of Newfane's finest historical buildings, an honor appropriately bestowed on a home that witnessed the creation of the town itself, along with sheltering many residents who have shaped our wonderful community.
---
Other notable facts & Van Horn family members:
Abigail (James Sr.'s wife) was very religious and enjoyed attending church services, which she traveled to on horseback. To help his wife find her way through the dense woodlands, James cut notches in hundreds of trees throughout the many pine groves in the area, to create a type of road map Abigail could follow as she rode from community to community to attend her various religious meetings.
John Van Horn (3/7/1813 - 10/12/1880): He was a founder and the first president of the local Pioneer Association. He served as county clerk and county treasurer of Niagara County and for a number of years was in the mercantile business in Lockport. He was also known for making fiddles, often used in the many barn dances held in the area.
Daniel Van Horn (1794-1882 ): The oldest son of James Sr. settled at Johnson's Creek between 1811 - 1815, where he and his father opened a dry goods & grocery business, selling it in 1818. Later he built and owned a sawmill along Eighteen Mile Creek which would eventually be purchased by the Lockport Felt Company. Daniel also served as a justice of the peace for eight years, supervisor for four years in the town of Hartland, and the county judge of Niagara County for three years. He had seven children. Descendants of his family still live in this part of Niagara County.
Launey Van Horn (1/22/1810 - 5/2/1885): Lived out West for a number of years, and subsequently returned and died in Newfane. Inside the First Baptist Church of Newfane is a stained glass window in memory of Deacon and Mrs. Launey Van Horn.
Willis Van Horn for a number of years was in the cold storage business at Niagara Falls, and his home was close to his business. There is a humorous tale from his first wedding, about some over-zealous attendees who dallied around the hard cider barrel a little too long. They pulled a small cannon from the local gun house, loaded it and were about to set it off when the 'indignant groom' halted their plans. He also was a partner, along with his brother, in the fruit orchard once run by his father and handed down to his children. Later in life he moved to Oregon.
Cornelius Van Horn was elected an Assessor at the first town meeting on April 6, 1824. He served as Town Supervisor in 1834. He moved to Indiana early in life and remained there until death.
---
Ghost Tales
The Van Horn Mansion is most known for being haunted by a number of spirits, the most famous being Malinda Niles Van Horn, who died over 150 years ago.
In 1836, 28-year-old James Van Horn Jr. married a 20-year-old beauty named Malinda Niles. Within a year Malinda would die, and while it is prominently considered due to childbirth, many mysteries remain around her life and death. This led to many alternative stories of her demise.
Former death theories include:
Malinda was thrown down the stairs by her husband, who was angered that she could not have children
She committed suicide
She was poisoned by her husband or father-in-law
She died after a brief illness
Malinda died after giving birth
She died by a falling tree branch
She was murdered by her husband after being caught having an affair with a servant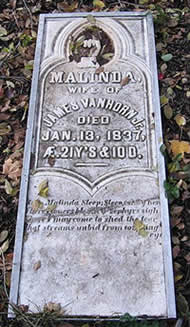 Following her death, the Van Horns kept everything quiet and buried her on the grounds near the mansion. Her quick funeral was held January 13, 1837, only ten days after her 21st birthday. Long after rumors began of her ghost remaining at the mansion.
"Sleep, Malinda, Sleep. Where flowers bloom and zephyrs sigh, Where I may come to shed the tear that streams unbid from sorrowing eye." -Words on her gravestone (pictured left).
After 1910 and the departure of the Van Horn family, the mansion would see large spans of time with no occupants, falling into disrepair and being repeatedly vandalized. Rumors began of spirits being seen on the grounds and inside the building. Passerbies swore they saw the ghost of Malinda staring at them from an upstairs window. Cars have skidded to avoid hitting a young girl running from the mansion who later vanishes. The girl is often believed to be Malinda. Even when the house had residents, the hauntings would remain. People have seen Malinda at the top and bottom of the ornate stairway, dressed in blue or appearing in a white mist. There were reports of footsteps pacing in the upstairs rooms.
Decades passed and the many sightings would continue; countless visiting psychics have long considered the building haunted. People have held séances there, and have recounted other paranormal occurrences as well. Historical Society members have often seen Malinda fully dressed in the mansion. There is also a smell of untraceable lilac perfume in certain parts of the house.
The grave of Malinda, wife of James Van Horn Jr., is located in the rose garden on the north side of the grounds. Malinda's body was found by cadaver dogs in 1992 and moved to its permanent resting place south of the mansion. Her gravestone has been mended and placed over her remains. Folks say that since Malinda's body was found, her ghost has stopped haunting the mansion.
Of course, there have been other unusual sightings which still continue. In the attic, the maid's bedroom door has closed by itself. The door to the attic has also slammed as well. Other claims of activity include whistling, which is said to be done by the servant who worked out in the carriage house, and also the smell of tobacco in the men's smoking room on the second floor when no one's there. Others have witnessed a shadow like figure in the attic, and volunteers have captured video evidence of an unidentified figure peeking out of view in the kitchen of the mansion. During the time Noury Chemical owned the building, their attempts to build offices continuously failed due to hauntings, part of the reason they chose donate the building. During renovations under the society's restoration project, roofers witnessed faces in windows of the vacant mansion and saw lights flicker for no reason. Carpenters saw spirits appear to them as well.
Today ghost sightings are not as common as in the past, possibly because the mansion is used much more in the last decade. However there are still plenty of supernatural occurences that happen to visitors annually. Society members continue to learn as much as they can about the former residents, in hopes of keeping alive their spirits by sharing their lives with all who visit.
---
History Through the Years
1811: First grist mill in Niagara County built by James Van Horn.

1813: Grist and saw mills of James Van Horn burned by British during the War of 1812.

1817: Grist Mill rebuilt on the same location by James Van Horn.

1819: The entire family relocates from Seneca County to their family estate

1823: James built the area's first brick house (The Van Horn Mansion), and also a store and distillery.

1824: First town meeting of the newly formed town of Newfane held in Van Horn house.

1839: Mill destroyed by fire, rebuilt in 1840.

1842: Van Horn woolen factory built one mile south; operated under name of Van Horn & Company

1852: James Jr. took over mill. Burt took over house and farm.

1881: Burt Jr. and Willis Van Horn operating fruit farm of 344 acres. Burt Jr. living in the brick house, Willis living in Suspension Bridge, NY where the cold storage was located.

1900: Burt Jr. completely remodeled the brick house, added addition on the back; installed the leaded glass dome.

1910: Van Horn Mansion sold to Henry Winter Davis.

1922: Owned by Herbert Pease

1929: Brought by Cramer brothers, sold a few months later to Douglas Patterson.

1949: Mary Wagner converted house to 'Green Acres' restaurant.

1954: Howard Fitzgerald takes over the restaurant.

1964: John Strickland converts to a boarding house, which lasts a year.

1965-1971: Strickland rents the house occasionally, but largely it sits vacant and falls into disrepair and a victim of repetetive vandalism.

1971: Purchased by the Baker Family, who lived in the building for nearly 2 years.

1977: Bought by Noury Chemical, located on the property surrounding the Mansion.

1985: Donated to The Town of Newfane Historical Society, Inc.
---
Historical records and writing contributions include:

A History of the Town of Newfane by Ray A. Newell; Address before the Niagara County Historical Society, Feb. 14, 1949

Souvenir History of Niagara County, New York; Commemorative of the 25th Anniversary of the Pioneer Association of Niagara County, 1902

Town of Newfane Sesquicentennial Souvenir Booklet, 1974

Images of America, Newfane and Olcott by Avis A. Townsend, 2005

Union Sun & Journal, 1908

Buffalo News c. 1895